Description
12 Month Apple Music Subscription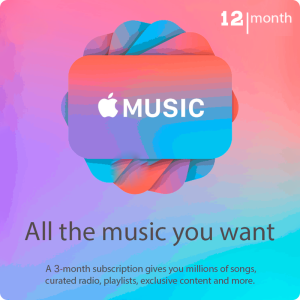 Experience a world of music like never before with the Apple Music 1-Year Subscription. Get ready to dive into a vast library of over 75 million songs, exclusive artist content, personalized recommendations, and much more. Whether you're a music aficionado or a casual listener, Apple Music has something for everyone.
Unlimited Music: Gain access to an immense collection of songs from various genres and artists. Discover new releases, explore classics, and enjoy curated playlists designed to suit your mood, activity, or musical taste. With over 75 million tracks at your fingertips, the possibilities are endless.
Exclusive Content: Immerse yourself in exclusive content available only on Apple Music. Tune in to Beats 1, Apple's global radio station, and discover interviews, live performances, and radio shows hosted by renowned DJs and artists. Explore original content and documentaries that give you an inside look into the music industry and your favorite artists.
Personalized Recommendations: Apple Music understands your unique musical preferences and tailors its recommendations to suit your taste. The more you listen, the better it gets at suggesting songs, playlists, and albums you're likely to enjoy. Discover new artists and expand your music horizons effortlessly.
Seamless Integration: Apple Music seamlessly integrates with all your Apple devices, including iPhone, iPad, Mac, Apple Watch, and HomePod. Start listening on one device and pick up where you left off on another without missing a beat. Enjoy your favorite music wherever you go, whether you're commuting, working out, or relaxing at home.
Offline Listening: Take your music with you, even when you're offline. Download your favorite songs, albums, and playlists to your device and enjoy them anytime, anywhere, without an internet connection. Perfect for traveling or areas with limited connectivity.

Please contact me on
 this WhatsApp number or email :